Next Meeting
We are delighted to announce that our next DHN meeting will be LIVE and will be held
on Saturday 29th April 2023 2:00 pm - 3:30 pm
Followed by Refreshments in the Café
at Rudolph Steiner House
35 Park Road
London NW1 6XT
Next to The Marylebone Theatre and a 3-min walk from the Sherlock Holmes Museum
(see below for directions)
Our speaker will be
Rosemary Pharo
BA (Hons) (University of Leicester), Diploma in Antenatal Education (University of Bedfordshire), qualified in massage therapy, aromatherapy, Reiki, various advanced massage techniques, remedial hypnotherapy

Rosemary will be talking about Reiki Medic-Care, which began to support NHS medical staff with remote reiki during the pandemic and the initial research results together with the technology and teams involved in the project.

Rosemary has been involved in the field of wellness since 1998, she has been a past secretary of the Reiki Council and has been involved in running membership organisations since 2003.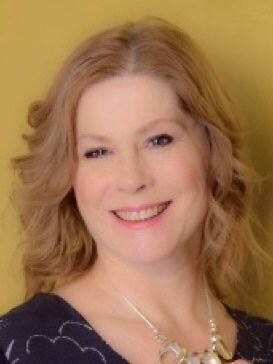 Donation of £10 for all attendees please.
Please note - you do not have to be a member to attend.
If you wish to participate in the forthcoming meetings, please click
EVENTS
to receive your Zoom invitation.
We look forward to seeing you.
Details of our further events will be posted shortly
Coming Soon on Zoom
Julie Coghill from Guy's & St Thomas' Complementary Therapy Unit talking about activities in her department and the hospital group.
Travel details and map to Rudolph Steiner House
(next to Marylebone Theatre)

Nearest Underground stations: Baker Street and Marylebone
Best buses to catch: 18, 27, 30, 74, 113, 139, 189, 205, 453
Nearest Railway station: Marylebone Station
Parking: There is an NCP facility in London Park Road. Parking can be booked on their website.
Previous Meetings
Wednesday 29th June 2022 at 2.00pm
"Energy Therapy in Medicine Today"

An event jointly organised by The Harry Edwards Healing Sanctuary and The Doctor Healer Network and held at The Harry Edwards Healing Sanctuary.

Members, healers and medical practitioners joined us for this unique event to learn how Energy Therapy is now integrated within the NHS and is used alongside orthodox Medicine today as an accepted mutual practice.

Speakers included Sandy Edwards and Suzanne Ruggles who inspired us with ground-breaking accounts of how they each successfully worked in partnership with NHS hospitals. Sandy co-organised one of the world's largest clinical medical trials of Energy Medicine in partnership with a City Hospital and the University of Birmingham while Suzanne established an Integrated Therapy Programme for Haematology and Bone Marrow transplantation that included the UK's first project dedicated to Sickle Cell Disease at St George's Hospital, London.

Sunday 29th May 2022 at 2.00pm
Online on Zoom

Dr Manjir Samanta-Laughton MBBS, Dip Bio-energy gave a fascinating talk entitled "The Universe and You: Your Connection to the Cosmos" based on a new theory of the universe that unites processes on a very large scale in galaxies with stars, planets, atoms, DNA and even our weather patterns. Her new vision of reality, backed by decades of astrophysics data, showed not only how the universe is creative but how we are all connected to the very heart of the cosmos. Dr Manjir is a former medical GP and bio-energy therapist turned international speaker and author of Punk Science and The Genius Groove.
Sunday 23rd January 2022 at 2.00pm
Online on Zoom

Jen Brightlight, healer and certified Pathogen Whisperer gave a talk on Pathogen Balance.
Healing through tuning in to energetic resonances of pathogens or energies that may create suffering.
Sunday 1st March 2020 at 2.00pm
First Floor Conference Room
Rudolph Steiner House
35 Park Rd, London NW1 6XT

Edvin Soms, healer and hypnotherapist gave a talk on Past Life Retrocognition.
Sunday 12th Jan 2020 at 2.00pm
at The Eurythmy room
Rudolph Steiner House
35 Park Rd, London NW1 6XT

Helen Crocker gave a talk on Bioenergy Healing
Sunday 17th November 2019 at 2.00pm
at The Eurythmy room
Rudolph Steiner House
35 Park Rd, London NW1 6XT

Anthony Stewart gave a talk on 'Angelic Healing
Sunday, 17th April 2019 at 2.00pm,
At Connaught Hall, 36- 45 Tavistock Square, London, WC1H 9EX
Dr Ian Rubenstein, Enfield GP, gave a talk on‬
'Medicine, Mediumship & Messages from Beyond.‬'
For more information about Dr Rubinstein, please click
here
.
Sunday, 28th October, 2018 from 2 - 4.30pm
Shuna Watkinson was our speaker. Her talk was entitled:
"A foot in the NHS door - the clinician and healer working together."
Shuna works for East and North Hertfordshire NHS trust and is supported by Sam Buxton Sunflower Healing Trust.

Please click here to read the Meeting Report.
Sunday, 20th May, 2018 from 2 - 4.30pm
Sandy Edwards spoke about her outpatient clinical research.
Please click here for details of her book 'Healing in a Hospital'

It was held at:

Connaught Hall, 36-45 Tavistock Square
London WC1H 9EX
nearest Underground Stations:
Russell Square/Kings Cross/Euston
Sunday, 15th April, 2018 from 2 - 4.30pm at Connaught Hall, University of London

We had a most enjoyable meeting with a visiting group of Danish healers led by our Danish member, Marzcia Techau. They plan to explore how healing is delivered in the UK . Their 5-day tour of healing settings will included the Lister Hospital, Stevenage , Guys Hospital Cancer Centre, Croydon Spiritualist Church, St Joseph's Hospice in Hackney and they met with Sandy Edwards at Westminster Friends Meeting House. It was great to exchange our experiences and ideas . We wish them much success !

Note: Sandy will be speaking at our next meeting on May 20th, 2018.
See top of page for details.

Picture below: Visiting group of Danish Healers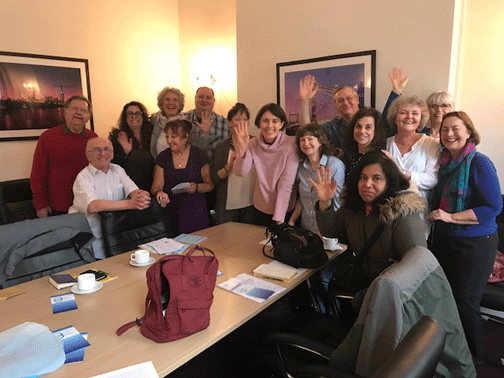 Sunday 18th February, 2018 from 2 - 4.30pm
The meeting was held at:
The Wesley Hotel, 81-103 Euston Street, London NW1 2EZ
Speaker: Simon Hinton Harmonic Resonance Healing
Simon Hinton is an internationally renowned Transformational Coach, Thought Leader, Psychic Healer, Esoteric Teacher, Writer and founder of 'The Entrepreneurs Club International'. He has a lived a most extraordinary and unusual life that has furnished him with a unique insight into the human condition and the ability to help people find solutions to their problems. Please click
here
for more info.