A Tribute to Dr Jean Galbraith
Photo below taken at the 2007 London Conference organised by Jean
'Healing & Spirituality in the 21st Century"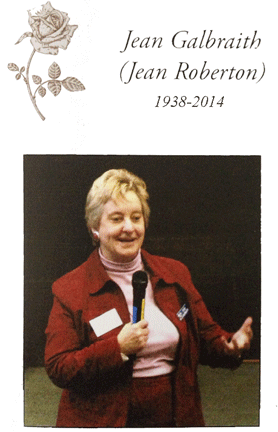 Jean Galbraith died peacefully at home on Wednesday 19th March, 2014. A former Trustee of the National Federation of Spiritual Healers from 2004-2010 (now the Healing Trust) and Chair of Region 5, she led a full and interesting life. From her marriage in 1959 onwards she lived in St Albans, where she was a doctor in General Practice for thirty-one years, and also in Infectious Diseases at St Albans hospital for seventeen years. In this time, she founded or chaired many organisations to support her community, and volunteered to help the homeless both as a healer and in other ways. Jean helped found a cancer care support group and to set up a fund to bring Macmillan nurses to St Albans. She also chaired Child Health International, and the London branch of the Doctor-Healer Network.

It was after the early death of her daughter Kirstie in 1986 that Jean encountered spiritual healing, on a visit to the Bristol Cancer Care Centre. Following two eventful years of study and discovery she introduced two spiritual healers into her General Practice on a professional basis, as well as running meditation classes for her patients to reduce their stress symptoms. She brought a team of healers to work with the homeless in St Albans, and during this experience learned much about the way the practice of forgiveness influences the human energy field.

In her later years, Jean experienced three kundalini experiences with effects that were both personally devastating and also sometimes near-miraculous. She received remarkable gifts as a healer and clairvoyant. She made in-depth studies of the kundalini phenomenon and collated a significant amount of data, providing personal help, understanding and reassurance to many fellow-sufferers along the way.

Jean was a patient and kind mentor and an advisor to many healers in the region. She is survived by her son Hamish and his family.
Please click on the icon below to read a tribute to her.