Doctor Healer Network Meetings - All Welcome
Please note - you do not have to be a member to attend.
There is a charge of £10 to pay for room hire.
We look forward to seeing you.
Future DHN Meetings will be notified here soon

More information is available on our Facebook page relating to current topics.
To view, please click on our Facebook link on the home page.
Travel details and map to Rudolph Steiner House

Nearest Underground stations: Baker Street and Marylebone
Best buses to catch: 18, 27, 30, 74, 113, 139, 189, 205, 453
Nearest Railway station: Marylebone Station
Parking: There is an NCP facility in London Park Road. Parking can be booked on their website.
Previous Meetings
Sunday 1st March 2020 at 2.00pm
First Floor Conference Room
Rudolph Steiner House
35 Park Rd, London NW1 6XT

Edvin Soms, healer and hypnotherapist gave a talk on
Past Life Retrocognition.
Sunday 12th Jan 2020 at 2.00pm
at The Eurythmy room
Rudolph Steiner House
35 Park Rd, London NW1 6XT

Helen Crocker gave a talk on
Bioenergy Healing
Sunday 17th November 2019 at 2.00pm
at The Eurythmy room
Rudolph Steiner House
35 Park Rd, London NW1 6XT

Anthony Stewart gave a talk on
'Angelic Healing'
Sunday,17th April at 2.00pm,
At Connaught Hall,
36- 45 Tavistock Square, London, WC1H 9EX
Dr Ian Rubenstein, Enfield GP, gave a talk on‬
'Medicine, Mediumship & Messages from Beyond.‬'

For more information about Dr Rubinstein, please click here.
Sunday, 28th October, 2018 from 2 - 4.30pm
Shuna Watkinson was our speaker. Her talk was entitled:
"A foot in the NHS door - the clinician and healer working together."
Shuna works for East and North Hertfordshire NHS trust and is supported by
Sam Buxton Sunflower Healing Trust.

Please click here to read the Meeting Report.
Sunday, 20th May, 2018 from 2 - 4.30pm

Sandy Edwards Spoke about her outpatient clinical research.
Please click here for details of her book 'Healing in a Hospital'

It was held at:

Connaught Hall, 36-45 Tavistock Square
London WC1H 9EX
nearest Underground Stations:
Russell Square/Kings Cross/Euston

Sunday, 15th April, 2018 from 2 - 4.30pm at
Connaught Hall, University of London



We had a most enjoyable meeting with a visiting group of Danish healers led by our Danish member, Marzcia Techau. They plan to explore how healing is delivered in the UK . Their 5-day tour of healing settings will included the Lister Hospital, Stevenage , Guys Hospital Cancer Centre, Croydon Spiritualist Church, St Joseph's Hospice in Hackney and they met with Sandy Edwards at Westminster Friends Meeting House. It was great to exchange our experiences and ideas . We wish them much success !



Note: Sandy will be speaking at our next meeting on May 20th, 2018.
See top of page for details.



Picture below: Visiting group of Danish Healers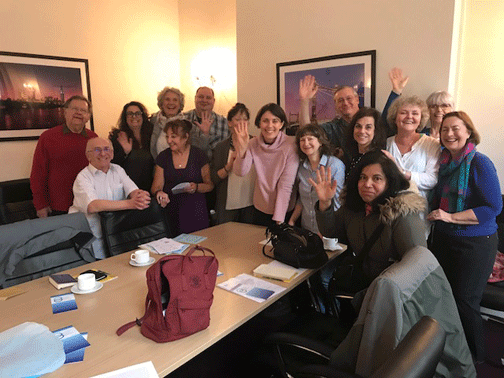 Sunday 18th February, 2018 from 2 - 4.30pm
The meeting was held at:
he Wesley Hotel, 81-103 Euston Street, London NW1 2EZ
Speaker: Simon Hinton

Harmonic Resonance Healing
Simon Hinton is an internationally renowned Transformational Coach, Thought Leader, Psychic Healer, Esoteric Teacher, Writer and founder of 'The Entrepreneurs Club International'. He has a lived a most extraordinary and unusual life that has furnished him with a unique insight into the human condition and the ability to help people find solutions to their problems. Please click
here
for more info.